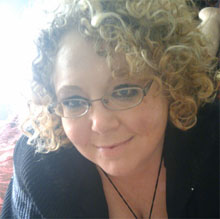 The reason I decided to become a massage therapist was because when my kids were little, I was exhausted from the stress of chasing children, attending PTA meetings, boy scouts, girl scouts, and the duties of being a wife such as cleaning house and cooking. As a result I never found time for myself, until one day I saw a sign that said massage at a little hair salon by the house.
So I went in and got my first massage and totally escaped life for one hour. I can still recall laying on the table in a quiet dark room, with soft music, candles and a waterfall and the massage therapist relaxing my muscles with her warm hands and slowly my mind let all the daily stress disappear then I went to a place of bliss. My mind was void, I heard no screaming or crying, no get me this or get me that. I felt alone here with no worries or stress which seemed like forever.
And when my massage was over, the therapist left the room and I sat up. I recall my body felt renewed and rejuvenated.  I felt like I had that surge of energy I once had as a child, calm and excited to return to my daily life. I was at peace. And those memories are what motivated me into a career as a massage therapist so I could give others the same experience, providing a little gleam of hope, an hour of escape from their everyday life.