The Original Reiki Ideals
The secret art of inviting happiness
The miraculous medicine of all diseases
Just for today, do not anger
Do not worry and be filled with gratitude
Devote yourself to your work and be kind to people
Every morning and every evening join your hands in prayer and pray these words to your heart and chant these words with your mouth
Usui Reiki Treatment for the improvement of body and mind
Lana Khalil, Reiki Master
Lana has been using Reiki for many years in conjunction with her other healing modalities, including massage and hypnosis. During a massage, if she is not physically working the body, then her hands are in motion allowing healing energy to flow to the appropriate parts of the body.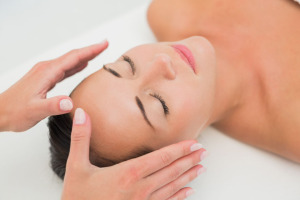 The ancient wisdom of many cultures has possessed the knowledge that an unseen energy flows through all living things and directly affects the quality of health. The existence of this "life energy" has been has been verified by recent scientific experiments and medical doctors are considering the role it plays in the function of the immune system and the healing process.
Reiki is a beneficial technique that works extremely well for stress reduction and also promotes healing, making it a wonderful complement to massage therapy. Reiki is easy to learn and has been taught to thousands of people of all ages and backgrounds around the world. A Reiki treatment feels like a wonderful glowing radiance that flows around through you, surrounding your body. The beneficial effects include relaxation and a feeling of peace, security and well being. Hospitals and doctors' offices are becoming more open to the use of Reiki and are beginning to include it as a part of their therapy.
Through a combination of her extensive knowledge and experience in massage and Reiki as well as her powerful intuitive ability, Lana is able to provide the ultimate experience that provides her clients with exactly what they need be it massage, Reiki or a combination of these 2 modalities.