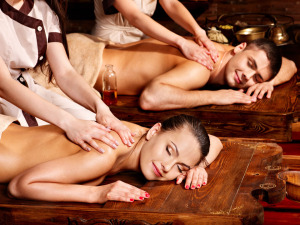 A Couple Massage is a very special massage and the best experience happens with both people in the same room. In this situation often there is wine served, and additional such as candles and flowers help to set the mood for a wonderful experience.
An additional massage therapist is required so that both members of the couple can experience the relaxing rejuvenation of the massage at the same time. Each person gets to decide exactly what they want in terms of massage including Swedish Massage, Deep Tissue Massage, Table Thai, Hot Stone Massage or special requests can be made as well.
Often the Couple Massage happens on a special occasion such as a birthday or Valentines Day, however any day can be a special occasion especially when a Couple Massage is involved.
Discover the joy of giving and receiving when you schedule an appointment for a Couple Massage for yourself and that special someone to enjoy. Another advantage of a couple massage is that you may decide to share your massage therapist during part of the massage so that your partner can experience a 4 hand massage during part of their massage. Of course by sharing your massage therapist with your partner, chances are you will also have the opportunity to experience a 4 hand massage  as well.